Product Description
Membrane bio-reactor ( membrane Bio-Reactor, MBR) is a Membrane unit is introduced into traditional sewage biological treatment technology of the new processing technology, Membrane separation unit in replace of traditional secondary sedimentation pool function at the same time, with further removal of organic matter and nitrogen and phosphorus, is currently the most advanced and efficient water treatment technology. MBR includes Hollow Fiber UF Membrane MBR and Flat Sheet Membrane MBR. MBR is its core part, Meanwhile includes air washing system/ clean water washing system/ dosing system and etc.

Product Description:
1) Underground Industrial Wastewater Treatment Equipment can be embed below the surface, therefore there is no floor space and no need for plant construction, neither heating nor heat preservation. The surface can be afforested.
2) The device consists of steel structure, adopts new anti-corrosion material. And its anti-corrosion can reach 12 years.
3) It uses plug flow biological contact oxidation pond, the effect is better. It is smaller than active sludge pool. It has strong applicability to the water, outstanding impact resistance performance, stable discharging water quality, but no sludge expansion. In addition, the new elastomeric stereoscopic materials applying to the oxidation pond bring a higher removing rate, and also can improve the water solubility of oxygen.
4) Because of the low volume load of fillings in AO bio-treatment technology of and microbes in the stage of oxygen, this equipment would produce less mud. Generally, around 90 days need only one sludge removal.
5) In addition to using conventional silencer to air blower, it sets new acoustical material in the wall. When it is operating, noise would be under 50 decibel that reduce the influence to surrounding environment.
6) Except for the conventional air exhaust, the device is equipped with soil deodorization measure. Ultimately, stench element is decomposed by the microorganism for deodorization.
7) It is equipped with automatic electric control system and equipment damage alarm system. The device has good reliability, therefore, there is no need for special management, just needs regular maintenance.
8) On the condition of making sure the treating effect, if customers have special requirement including treating power and specification etc., we can design and manufacture specially.
Main Features:
Beautiful appearance, economical investment, continuous operation, compact structure, stable performance, outstanding impact resistance, small occupied space, convenience to the maintenance.
Applications:
1. Hotels, restaurants, nursing homes, hospitals.
2. Residential quarters/residence, private housing, holiday parks/tourist attraction.
3. Stations, airports, port terminals and ship.
4. Factories, mines, military, tourist, scenic spot.
5. All kinds of industrial wastewater similar with domestic wastewater.
Technical Parameter

Model

0.5

1

3

5

10

20

30

Capacity (m3/h)

0.5

1

3

5

10

20

30

Air blower

Model

HB-0.75

HB-1.1

HB-1.2

HB-4.4

HB-8.8

HB-11.5

Power

0.75

1.1

1.2

4.4

4.4*2

11.5

Pump

Model

40QW-10-0.75

40QW-10-7-0.75

50QW10-10-1.1

50QW25-7-1.5

50QW25-7-1.5

50QW42-9-2.2

Power

0.75-1.1

1.5

2.2

Inlet water

BOD5
mg/L

150-400

Outlet water

BOD5

mg/L

20-60

Floor space

4.5

6.5

12

15

35

51

76
As a waste water treatment system features simple operation, high automation and modular design, it also has below advantages:
*Save 50% occupying area compared with traditional system.
*Relative high MLSS value(<15g/L)and long residue time for sludge(<60days).
*Stable producing water quality for different inlet water.
*Less sludge residue reduces cost for sludge treatment.
*Low energy consumption, simple cleaning and low operation cost.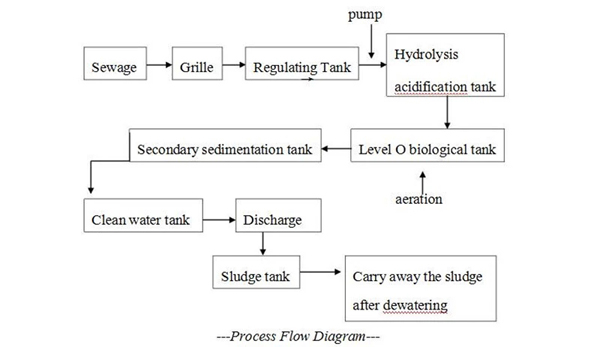 Technological Process:
Sewage → Grille → Regulating pond → MBR Bioreactor → Discharge(reuse)
1. Temperature: 5℃~45℃, average membrane aperture 0.10 μm.
2. PH: 2~12, membrane thickness: 40μm.
3. Outlet water turbidity: <1 NTU , outlet water SS <1mg/L.
4. Membrane area: 8m2, advised gas-water ratio: 25:1~30:1.
5. Operating pressure: -0.01 ~ -0.03MPa.