Product Description
Milk pasteurization machine is used to process pasteurized milk and yoghurt. It is suitable for pasture, central kitchen and small dairy factories. After batch processing pasteurized milk, it is distributed to residential areas, schools, units and so on. It can save 80% energy by using four-stage energy-saving plate sterilizer. milk pasteurizer pasteurizer machine milk pasteurization machine can save electricity very much. It can process one ton to dozens of tons a day. The company has special technicians, who can decide according to the output. Make small milk production line.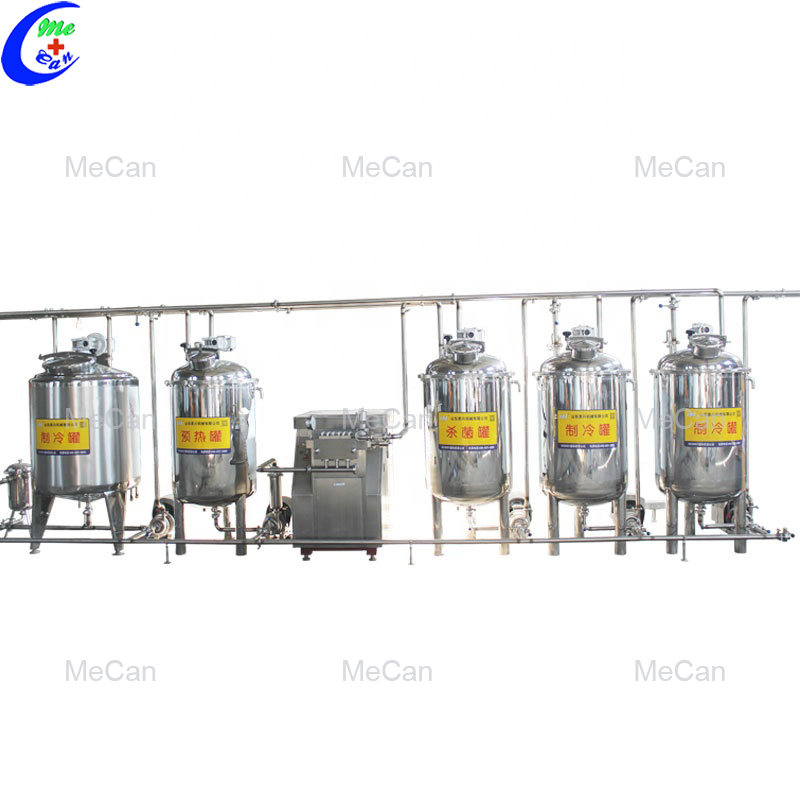 | | |
| --- | --- |
| Coverage | 15*3*2 m (can be changed according to site) |
| Total power | 85-90 kW (separate heating, staggered heating time) |
| Material | SUS304 stainless steel |
| Tank structure | Flange structure, better sealing effect, beautiful and practical. |
Main Features
Brief Introduction of milk pasteurizer pasteurizer machine milk pasteurization machine:
The equipment is mainly aimed at customizing dairy processing technology. The standard 200L tank-type dairy production line customized for Tibetan customers in the picture can realize dairy filtering, homogenization, sterilization, cooling, filling, cleaning and other process operations, realize automatic production and automatic cleaning.

Composition of milk pasteurizer pasteurizer machine milk pasteurization machine:
This pipeline is mainly composed of full automatic CIP cleaning system, including acid tank, alkali tank and hot water tank, integrated distribution system, milk unloading buffer tank, double filters, raw milk storage tank, preheating tank, homogenizer, pasteurization tank, refrigeration tank, inoculation tank, cup filling and sealing machine, bag packing machine, and yogurt machine, etc. It is completed through cooperation between them. The whole dairy processing, production line.

Applicable scope of equipment for milk pasteurizer pasteurizer machine milk pasteurization machine:
Small-scale dairy production line equipment can process various dairy products, milk, pasteurized milk, yogurt, goat's milk, yak's milk, donkey's milk, horse's milk, camel's milk and other milk products sterilization, pipeline production, suitable for small and medium-sized dairy processing plants, unit canteens, dairy farmers independent processing, central kitchen, universities, government agencies, large-scale fresh milk bar, poverty alleviation projects and other uses.