Product Description
This system occupy little space, easy to operate, wide application range.Reverse osmosis desalting rate ≥ 99%, machine desalting rate ≥ 97%. 98% of organic matters, colloids and bacteria can be removed. High operation automation degree. It is unattended. the machine will automatically stop in case of water sufficiency and automatically start in case of no water. Timed flushing of front filering materials by automatic controller. Aotumatic flushing of reverse osmosis film by IC microcomputer contriller. Online dispaly of raw water and pure water electric coductivity.

Raw water source:Bore whole, river, well, mountain spring, lake etc.
Filter media:Quartz sand filter, active carbon filter, security filter ( PP filter)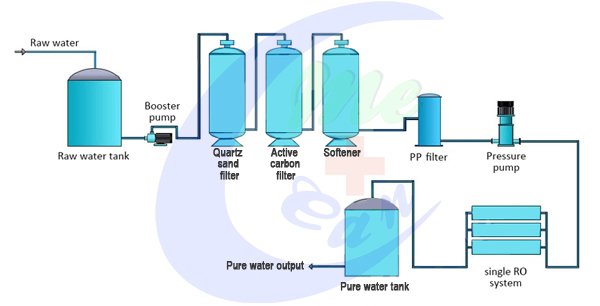 Working process
1. Raw water pump-- provide the pressure to quartz sand filter/active carbon filter.
2. Multi-medium filter--get rid of turbidity, suspended matter, organic matter, colloid, ect.
3. Active Carbon filter--Remove the color, free chloride, organic matter, harmful matter, ect.
4. Softener--exchange "ions" of calcium and magnesium with the most common and easiest method.
5. Micron filter--prevent large particles, bacteria, viruses into RO membrane, accuracy is 5um,
6. High pressure pump--Provide the high pressure to RO membrane ro.
7.RO system-- main part of the plant. The RO membrane's desalting rate can reach 99%, removing over 99% ions.
Main Technical Parameters:
Model

Capacity

of water

(Ton/hour)

General Power

(KW)

Electrical Power

(50-60Hz)

Membrane

(Pic)

Size (L*W*H)

(mm)

Weight

(Kg)

100L/H

0.1

1.0

AC220V

EC4021-800A

690*570*1490

100

250L/H

0.25

2.2

AC220V 18A / 380V 9A

ESPA4040*2

1550*900*1820

150

500L/H

0.5

2.75

AC220V 18A / 380V 9A

ESPA4040*3

1550*900*1820

250

700L/H

0.7

4.25

AC220V 27.5A / 380V 13A

ESPA4040*4

1550*900*1820

350

1000L/H

1

3.75

AC220V 24A / 380V 12A

ESPA4040*4

1980*900*1940

500

2000L/H

2

4.75

AC380V 8.8A

ESPA4040*6

4800*700*2050

700

3000L/H

3

5.75

AC380V 10A

ESPA4040*7

6000*800*2200

800

4000L/H

4

7.5

AC380V 12A

ESPA4040*8

7000*900*2400

1000

5000L/H

5

12.5

AC380V 25A

ESPA8040*9

8000*1000*2700

1500

6000L/H

6

15

AC380V 30A

ESPA4040*10

4300*1000*2300

1700

12000L/H

12

19

AC380V 35A

ESPA8040*12

8500*1600*1920

2500

15000L/H

15

19

AC380V 35A

ESPA8040*15

10100*1870*3000

4000

20000L/H

20

22.5

AC380V 45A

CPA28040*20

10000*1700*4200

4600

30000L/H

30

37.5

AC380V 68A

CPA28040*25

13000*1900*3500

6000