Product Description
Reverse osmosis (R/O) water treatment system is one of the highest technologies in modern pure water purification, raw water such as tap water, well water, borehole water, brackish water, sea water etc. Through the pretreatment then pass the reverse osmosis system, it can remove 97%colloid, solid, turbidity, chlorine, and odor. The pure water completely in line with international standards for drinking water. It is a key of water filtration equipment.
Raw water source:Bore whole, river, well, mountain spring, lake etc.
Filter media:Quartz sand filter, active carbon filter, security filter ( PP filter)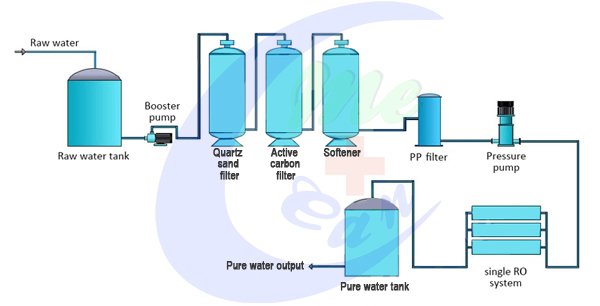 Working process
1. Raw water pump-- provide the pressure to quartz sand filter/active carbon filter.
2. Multi-medium filter--get rid of turbidity, suspended matter, organic matter, colloid, ect.
3. Active Carbon filter--Remove the color, free chloride, organic matter, harmful matter, ect.
4. Softener--exchange "ions" of calcium and magnesium with the most common and easiest method.
5. Micron filter--prevent large particles, bacteria, viruses into RO membrane, accuracy is 5um,
6. High pressure pump--Provide the high pressure to RO membrane ro.
7.RO system-- main part of the plant. The RO membrane's desalting rate can reach 99%, removing over 99% ions.
Main Technical Parameters:



Capacity

of water

(Ton/hour)

General Power

(KW)

Electrical Power

(50-60Hz)

Membrane

(Pic)

Size (L*W*H)

(mm)

Weight

(Kg)

100L/H
0.1
1.0
AC220V
EC4021-800A
690*570*1490
100
250L/H
0.25
2.2
AC220V 18A / 380V 9A
ESPA4040*2
1550*900*1820
150
500L/H
0.5
2.75
AC220V 18A / 380V 9A
ESPA4040*3
1550*900*1820
250
700L/H
0.7
4.25
AC220V 27.5A / 380V 13A
ESPA4040*4
1550*900*1820
350
1000L/H
1
3.75
AC220V 24A / 380V 12A
ESPA4040*4
1980*900*1940
500
2000L/H
2
4.75
AC380V 8.8A
ESPA4040*6
4800*700*2050
700
3000L/H
3
5.75
AC380V 10A
ESPA4040*7
6000*800*2200
800
4000L/H
4
7.5
AC380V 12A
ESPA4040*8
7000*900*2400
1000
5000L/H
5
12.5
AC380V 25A
ESPA8040*9
8000*1000*2700
1500
6000L/H
6
15
AC380V 30A
ESPA4040*10
4300*1000*2300
1700
12000L/H
12
19
AC380V 35A
ESPA8040*12
8500*1600*1920
2500
15000L/H
15
19
AC380V 35A
ESPA8040*15
10100*1870*3000
4000
20000L/H
20
22.5
AC380V 45A
CPA28040*20
10000*1700*4200
4600
30000L/H
30
37.5
AC380V 68A
CPA28040*25
13000*1900*3500
6000